Dear Letter-writers,

We are happy to announce that Penpalling & Letters has its Official Forum now!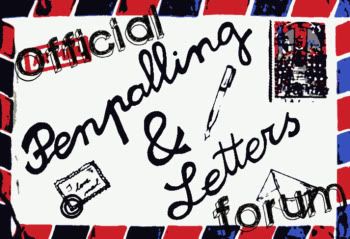 The Penpalling & Letters Forum is accessible to registered members only. Therefore you have to register first (click image above). Afterwards, feel free to associate it with your Facebook ID, your Google ID or any other ID allowed that you will see in the access page. And no, you do not have to come up with yet one more ID and password to enter the discussion boards!
The only requirement from the Penpalling & Letters Team is that you provide enough information certifying you are into penpalling before registering.
How to do that?
Just show us your reference online. It can be:

- your Facebook profile
- your Google+ profile
- your personal Blog/website
- your Postcrossing profile
- your Swap-Bot profile
- your Interpals profile
- even any visible profile of yours online
- be recommended by anyone the Penpalling & Letters Team knows already
- be recommended by an already existing member of the Forum
- be recommended by an already existing member of our Facebook groups

and also show us a visual proof you write and receive letters, postcards... (for example, showing a picture in which your name is shown and it is clearly stated that mail was addressed to you. Please, don't send a random picture you might find online!) by contacting us through penpallingandletters[at]gmail[dot]com.

If you are eligible to enter you will be notified by the Penpalling & Letters Team. We go through all petitions individually, therefore, if you fail to fulfill our requirements, your profile will be rejected. And please, notice that if you register yourself but don't accompany your petition to enter the Forum together with an e-mail presenting yourself you won't be accepted. Please, understand that there won't be any exceptions to these requirements and that we are not asking for anything "impossible" to fulfill. The Penpalling & Letters Forum is based on mutual trust among members, therefore it is intended to be a closed and safe place for letter-lovers, postcard-lovers and swappers, and we are doing our best to keep it this way!